Profile of Ivan Rebeyka, MD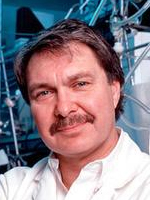 3H2.04 Walter C Mackzenzie Health Sciences Centre
University of Alberta
Edmonton AB T6G 2R7

Tel: 780.407.8033
Fax: 780.407.8052

Research
Our research program involves three separate, but related, areas that address clinical problems associated with critical congenital hart disease in the newborn.
Myocardial injury in neonatal cardiac surgery
Our main research focus over the past several years has been the investigation of factors potentiating myocardial damage during neonatal cardiac surgery. Postoperative myocardial dysfunction remains a major cause of morbidity and mortality following intracardiac repair of congenital heart malformations. A fundamental understanding of the mechanisms involved in myocardial injury during pediatric cardiac surgery is essential to developing specific techniques aimed at protecting the newborn heart. Studies in our laboratory have demonstrated that sudden alterations in myocardial temperature invoke marked changes in cytosolic calcium control that influence postoperative cardiac function and the results of our laboratory investigations in his area have had a substantial effect on our clinical practice by modifying intra-operative techniques of neonatal myocardial protection. Our research activities now focus on mechanisms of metabolic and intracellular calcium control in neonatal myocardium during surgically induced ischemia and reperfusion.

Intrauterine correction of congenital heart malformations
Certain infants born with a non functional ventricular chamber face high early mortality rates and a dismal future prognosis when biventricular repair is not possible. Current evidence suggests that many of these complex cardiac defects are the sequelae of relatively simple primary anatomic lesions during fetal cardiac maturation. The abnormal ventricular development in utero is thought to be secondary to an obstructive lesion that interferes with normal intracardiac blood flow patterns. This concept supports the hypothesis that complex postnatal lesions may be amenable to relatively simple in utero interventions before the ventricular chamber becomes so poorly developed that salvage after birth remains impossible. Our ongoing studies involve creation of congenital heart malformations by in utero manipulation of the 70 day gestation lamb fetus. Balloon intervention is then performed at 100 days of gestation to determine the effect on ventricular growth and development.

Accelerated maturation of the normal and abnormal neonatal pulmonary vascular bed.
Investigations are aimed at determining whether the neonatal pulmonary vascular bed can be pharmacologically manipulated to induce an accelerated rate of maturation. The ability to induce a more rapid fall in pulmonary vascular resistance during the newborn period would allow fundamental changes in the current surgical approach to these infants. Preliminary studies have demonstrated the effect of vasoactive pharmacological agents on pulmonary vascular maturation using hemodynamic, structural and biochemical end points in a neonatal lamb model. Studies are underway to determine whether the observed accelerated maturation rate are applicable in a model of congenital heart disease.